How are you doing with your health and fitness goals that you set out to achieve this year? Goal setting is a huge part of habit change and creating a healthy lifestyle. What are some of the other factors? Knowledge, accountability, and the tools to reach your goals. Getting a coach is the next step to locking in those other factors towards your success. Whether you are a novice gym goer, or a seasoned gym rat, having someone in your corner with the knowledge to get you to your goals, keeping you accountable to progressing in each workout, will make a huge impact on whether you reach your goals safely and in a timely manner. Having a coach is important.
SMART Goals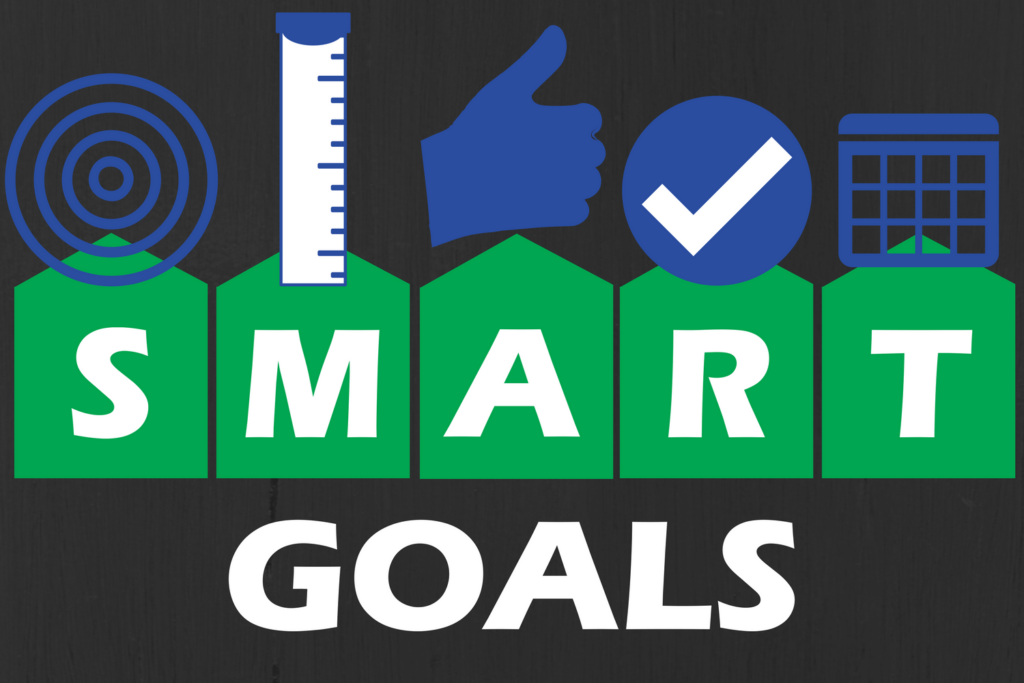 When setting your goals (health and fitness, financial, career, education, etc.), there is a way to create actionable and realistic goals: SMART Goals.
S – Specific
M – Measurable
A – Attainable
R – Realistic
T – Timely
Setting SMART Goals gives you a clear direction for your training. Learn more about setting SMART Goals in this Corporate Finance Institute article, it takes a deep dive into each layer of creating your goals so that you can feel confident about the achievability of your goals.
A few examples of heath and fitness SMART Goals are:
"I want to lose 10-15lbs by the end of May (about 3 months)."
"My goal is to increase my bench press max to 135lbs after two 16-week training cycles."
"I want to improve my biomarkers (lower bad cholesterol, blood glucose, etc.) by my next annual physical exam by increasing my workouts from 2x per week to 4x."
Is Coaching Yourself Setting You Up for Success You Want to Achieve?
Now that you have one to three SMART fitness/health goals (more than three goals is likely too much to manage effectively) that you want to achieve, do you have the knowledge and skills to create a training program that will get you there? Exercise and training may seem simple, or you may have many years of gym experience, but following a training program that will get you to your goals efficiently, and safely, should be your number one requirement.
Very few non-fitness professionals have the knowledge and skills to create a structured training program for themselves. Even seasoned coaches, personal trainers, and elite athletes hire coaches (we'll dive deep into that later in this article). Set yourself up for success and start researching coaches (local or virtual) who have the credentials and skills necessary to help you achieve your goals.
Internet Research: Friend or Foe?
You can certainly delve into the wealth of free programs available on the internet, however you'll likely get what you paid for it…nothing. Or maybe more than you bargained for, like an injury that will stop you from progressing to your goals. Believe me, there are Instagram fitness 'influencers' and Pinterest 'workouts' to choose from, but don't get distracted by buzzwords that are just click-bait (i.e. 6 Exercises to Flat Abs in 20 Days).
Real achievement of goals and progress shouldn't be touted to happen in less than 3 months, let alone 20 days. Don't even get me started on juice cleanses, 7-day detoxes, and weight loss teas and supplements. There are no magic pills, or special exercises, that will create fat loss from targeted areas or dramatic, and more importantly, sustainable weight loss.
Finding the right coach and gym for you might seem overwhelming, and can become expensive (relative to the value you'll be receiving) if you don't know what you should be paying for.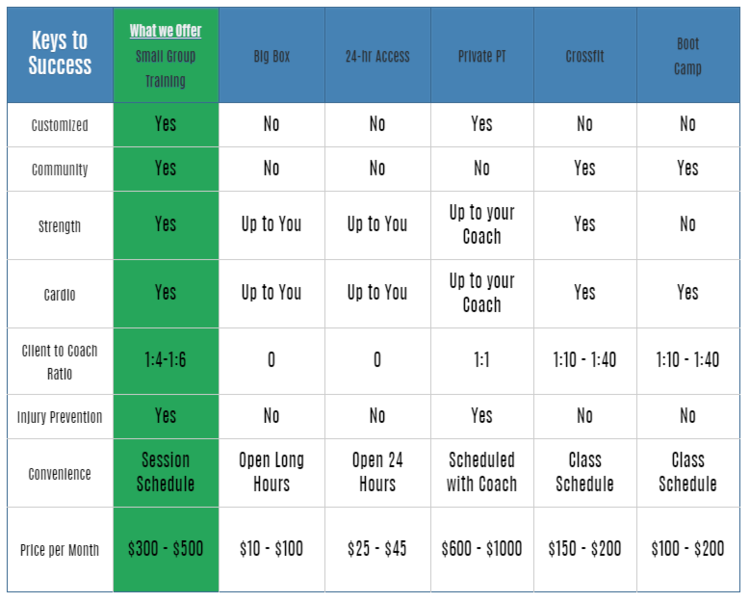 We've got several great articles detailing how to determine what sort of fitness facility will fit you and your goals, and why 1:1 Personal Training may not be what you actually need. Hiring a coach doesn't mean that you're going to hire a personal trainer, but you're hiring another person to give you a structured training program and keep you accountable to your goals.
Accountability Leads to Consistency & Consistency Leads to Progress
Hiring a coach to give you an educated (and science-backed) training plan or program will help you achieve your health and fitness goals efficiently and safely. In hiring your coach, you will have an objective view of your progress, and should be checking in with your coach regularly to make sure that technique issues, injury concerns, or achievement of goals is still realistic.
Knowing that you have weekly, monthly, or quarterly check-ins with your coach will aid in keeping you accountable to making your workouts happen consistently. Seeing progress towards your goals isn't about going all out one time per week (or every other week), but showing up and successfully completing your workouts 2-5x per week (depending on your training program).
Coaches Aren't Just for Newbies
The most-experienced elite athletes hire coaches for a multitude of reasons: specific physique/strength goal or technique improvement, injury rehabilitation, and accountability. Yes, even your coaches need help with accountability…
I know I'm much less likely to skip an exercise I don't particularly like (i.e. pull ups, single leg squats, biceps) if I have asked my coach to write a training plan that is structured to help me achieve my strength goals. It's human nature to defer to the knowledge base of a qualified coach because they have the skills to create the training program that is necessary for reaching the SMART goals outlined whether you're new to the gym or have been lifting weights and exercising for many years.
Are you ready to hire a coach? Progressive Performance offers a wide-variety of coaching options based on your goals, availability, and vicinity. From online-only coaching, small group personal training (5 clients to 1 coach), to 1:1 personal training, and everything in between.
An email to [email protected] is where your journey starts! If you're serious about achieving your goals this year (and for years to come) then it's time to send that email and a coach will be in touch with you to set up a goal-setting call!