When deciding which types of gyms are going to fit your health and fitness goals, the first thing you should think about is what amount of help you are really looking for in achieving your goals. Not all types of gyms are right for everyone, from super private one-on-one personal training studios to gym memberships that are under $10, we will break down the differences between these different types of gyms and give you a guide to point you in the right direction for your own goals.
The Big Box Gym
These are the big name brand gyms like 24hour Fitness, Gold's Gym, Planet Fitness, LA Fitness and the like. These types of gyms are all a little different but the main theme is that you are paying to basically rent space and equipment from these gyms for a small fee. Most of these gyms focus on having a lot of cardio equipment but not as much in terms of free weights. If you already know what you are doing when you're working out and want access to a bunch of different pieces of equipment then a big box-style gym is for you.
Sometimes these types of gyms also offer group classes and personal training for additional fees too. Some will include pools, saunas, showers, locker rooms and basketball courts. Most of the time, it's found that these types of gyms are in the business of selling as many memberships as possible to people that may or may not use them, these memberships are also hard to cancel most of the time.
The 24-Hour Access Membership Gym
These types of gyms are relatively new on the market, and it used to be a fast growing trend however these types of gyms seem to be dying out more and more. This type of gym is usually small with minimal staff and mostly fixed position machine equipment and cardio machines. Memberships to facilities like this normally include an access key so you can use the gym at any time on your own.
These types of gyms normally offer very little assistance from a trainer, though there may be some personal trainers that will do some private training out of them. Some bigger brands in this space are Anytime Fitness and Snap Fitness. So, if you are a night owl that wants access to a facility where no one will bother you this is the place to be.
The Private Personal Training Facility
This type of training is for those people that want a fully customized experience with the most individual attention possible. These facilities are normally owner-operated and is as personal as personal training can get. A lot of the time this is an 'ask and you shall receive' kind of facility. You will only really interact with your trainer, and there may even be cubicle walls separating you from other trainers and clients in the gym.
Normally this type of training can address specific injury concerns you might have and your coach can get creative when working with and around your particular injuries or goals. This type of training is normally very expensive so you will be paying top dollar. If you want a truly private and customized experience this is the gym you want to join.
CrossFit
This is a national affiliate program. CrossFit is a big brand that is really its own type of training. This is large group style training normally conducted in a warehouse space and involves a combination of bodyweight, plyometric, strength, and Olympic lifting types of exercises. Normally these workouts are not customized though they will have modifiers for exercises you can not yet do.
The typical workouts are normally you versus the clock, making the environment in CrossFit facilities is fast-paced and competitive. The client to trainer ratio can climb as high as 40:1. This type of facility is middle of the road to low in terms of cost. If you are looking to get things moving fast, thrive in a competitive environment and don't need a whole lot of individual attention when learning and performing Olympic lifts and gymnastics type moves this is the type of gym for you.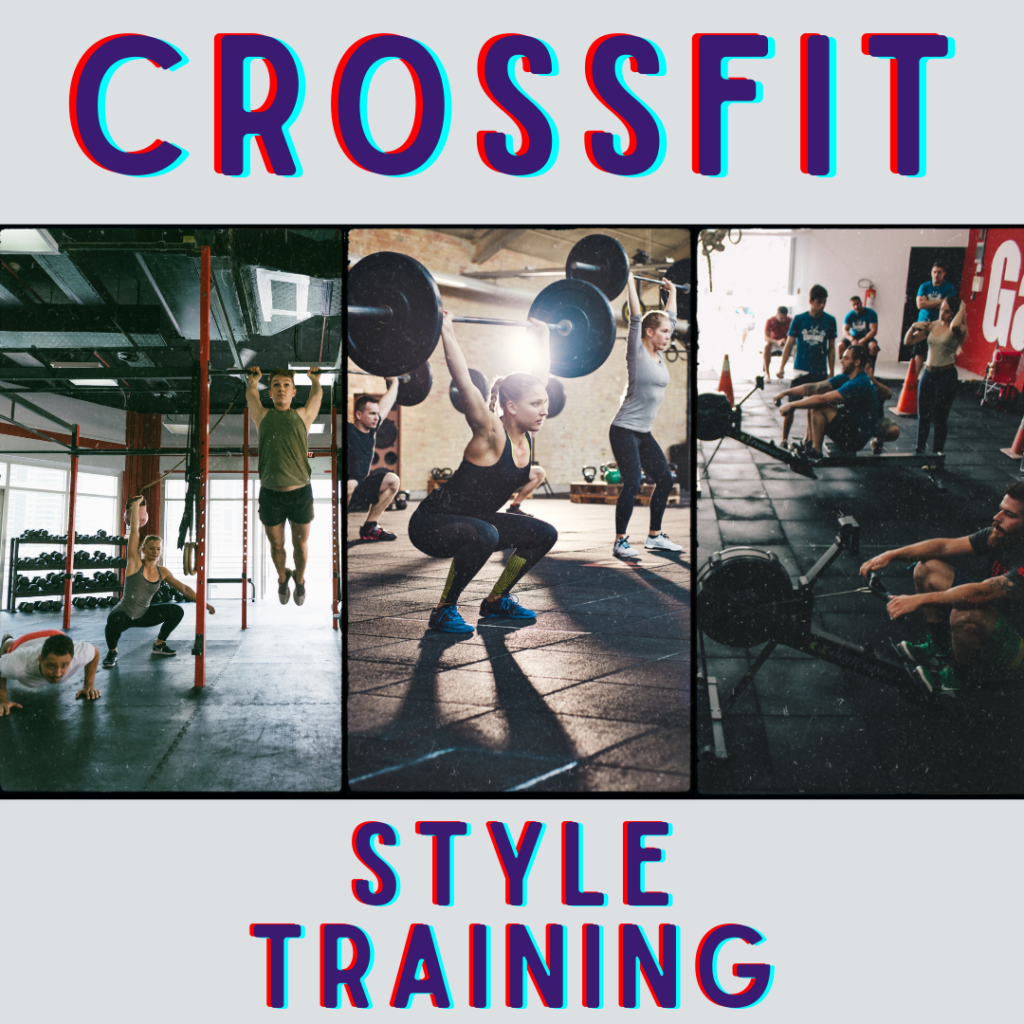 Boot Camp/ Circuit Cardio
Popular fitness franchises like Orangetheory Fitness, Fit Body Boot Camp, and F45 follow these types of systems. The time duration and equipment may change but the thought process is the same. You will run a circuit of exercises designed to get your heart rate up. These workouts are timed and everyone in the session runs the same workout at the same time. You will rotate between stations and this type of workout will get you sweating and train your heart. There is not much strength gain that happens during these types of workouts and has a very low amount of customization if any.
For some of these types of gyms the workouts will change regularly keeping things interesting for the members. If you want to sweat and work your heart with a large group and a coach motivating you this is the type of gym for you. The pricing of a facility like this is normally a little on the cheaper side because of the lack of customization and the larger group size.
Small Group Training Facility
This type of facility fits somewhere between private personal training/ physical therapy and group strength training. Normal client to trainer ratios are between 4:1 and 7:1 so you get a good blend of personal attention from the coach, as well as interaction with other members at the gym. The big selling point of these types of gyms is the community and the variable level of customization. You build great relationships with other members at the gym because it's not so big that you get lost in the group.
Plus, if you're the type of person who struggles with consistency and staying accountable to your training, the coaches will make sure to reach out to you if you have not been in the gym during the week. This type of facility can also address all your injury concerns in a proactive way. If you are coming in injured or have pain coaches at these facilities can help you get back to pain free training. You also get a custom movement assessment that will allow a coach to build a warm up routine just for you and give you exercises in your training that fit your goals and movement abilities.
Small Group Personal Training facilities are the types of gyms for people who are looking to get strong, move more freely, and lose that unwanted extra weight within a supportive community. This type of training is priced between personal training and boot camp training. If you are looking to have a guided training experience with a variable level of customization and a supportive community to get strong with this is the place for you.
Here is the breakdown of all of the types of gyms so that you can find the best one for your needs: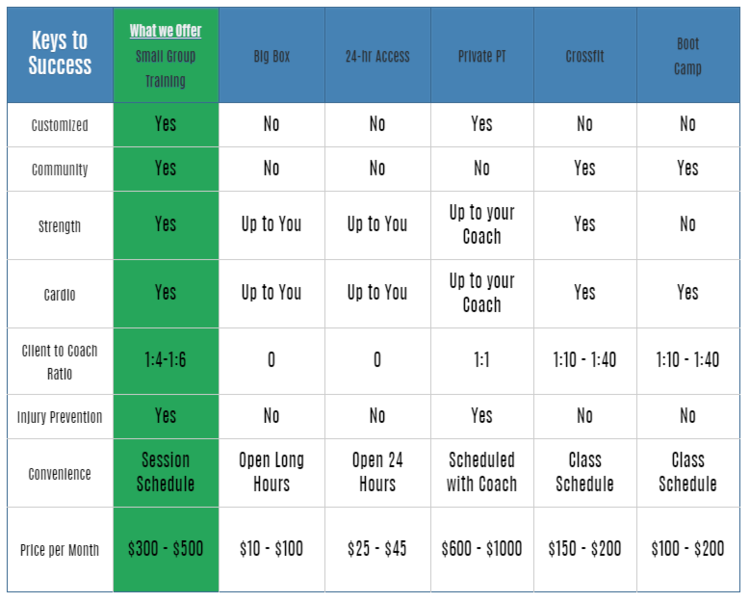 At Progressive Performance, we offer a broad spectrum of training options to fit your health and fitness goals, but the majority of our clients are part of our Small Group Personal Training community. Our coaching staff brings that personalized 1:1 training experience at a group training value.
Are you ready to reach your goals within a supportive community being coached by knowledgeable (and certificated) trainers? It all starts with our 28 Day JumpStart program – we can't wait to meet you!
Sign up today, and a coach will be in contact with you to congratulate you for taking the first step on your own fitness journey!